Sutherland Shire Drum Studio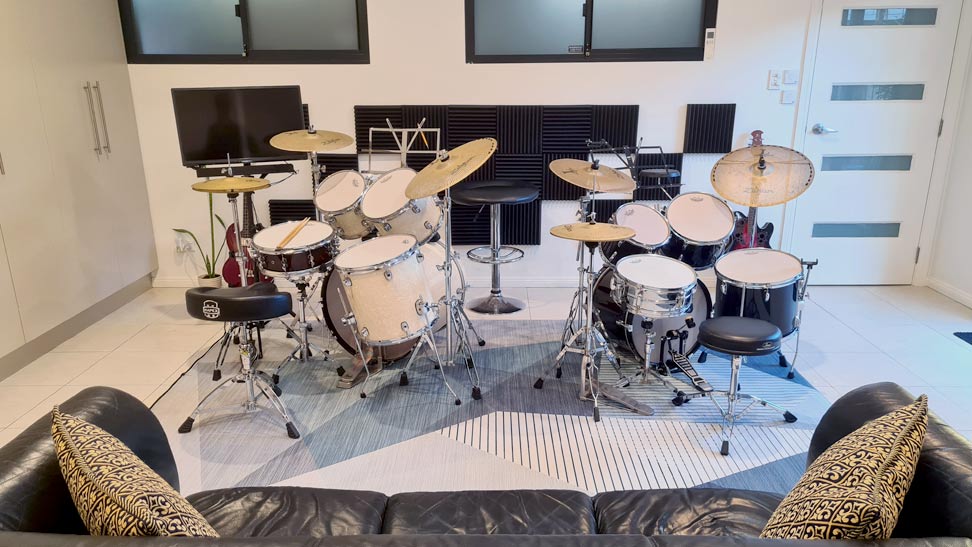 Private studio. Two quality drum kits. PA. One-on-one lessons. Free street parking.
Private and acoustically treated drum studio in Caringbah NSW equipped with two quality drum kits, PA, air-conditioning and Wi-Fi.
Play along with your favourite tracks.
Learn and practice at very low decibel levels only at Drum Lessons Sydney in the Sutherland Shire
One of our drum sets is equiped with special heads and cymbals that reduce the decibel levels by near 80% when compared to a normal set, eliminating the annoying need of hearing protection during lessons or training.
Pegada Drum Method
Pegada Drum Method is the most powerful and complete step-by-step drum methodology we have seen in decades.
When combined with evidence based teaching strategies, and applied by a trained tutor, it's guaranteed that all beginners learn how to play, and intermediate drummers transform the way they approach their traditional study methods, rebuilding their skills from the ground up.
4 levels: Fundamentals, Intermediate I, Intermediate II and Advanced.
Over 200 pages, including instructions that multiply its content in very smart ways.
Written by Brazilian/Australian drummer with more than 30 years experience.
"If Pegada Drum Method was available in music shops it would be by far my favourite option."
In conjunction with the instructions in the book, Claudio will:
✓ follow a program according to your individual pace;
✓ teach you how to play your favourite songs;
✓ suggest songs for you to learn;
✓ give you frequent, imediate and detailed feedback;
✓ answer your questions;
✓ and, most importantly, correct your technique.
Visit the Drum Lessons Sydney's Testimonials and find out what present and former drum students in Sutherland Shire have achieved and are happy about!