Drum Lessons Sydney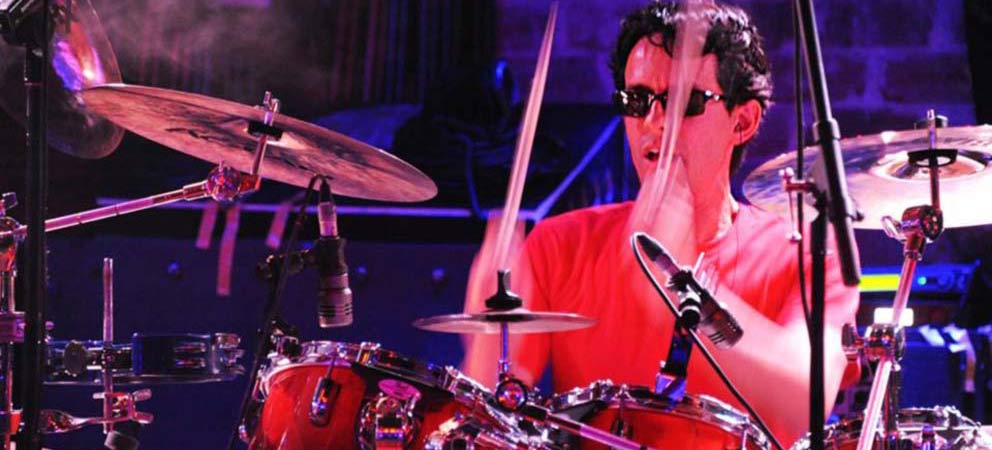 More Testimonials
Private adult and child drum lessons cover:

✓ Solid base for present and future development: fundamentals, rudiments and stick control

✓ Play any songs you want: grooves and fills

✓ Be a solid drummer: timekeeping

✓ Play with swing: dynamics

✓ Read and write music: score reading

✓ Play more than conventional sounds: double kick, tambourine, cowbell and jam block

✓ All limbs coordination and speed: hand and foot techniques, limb independence and ambidextrous development
Learn how to be creative playing Rock, Funk, Jazz, Soul, Reggae, Blues, Metal, Indie, Disco, Pop, Hip Hop, Latin and Fusion from a friendly teacher who will always take into consideration your learning style.
Achieve your full potential based on customised practice, playing songs of your choice.
From kids to adults, all levels and ages welcome.
Professional sound-treated music studio equipped with two quality drum kits, air conditioning, PA and Wi-Fi.
Book Your Trial
Special Deals
Behind the Drums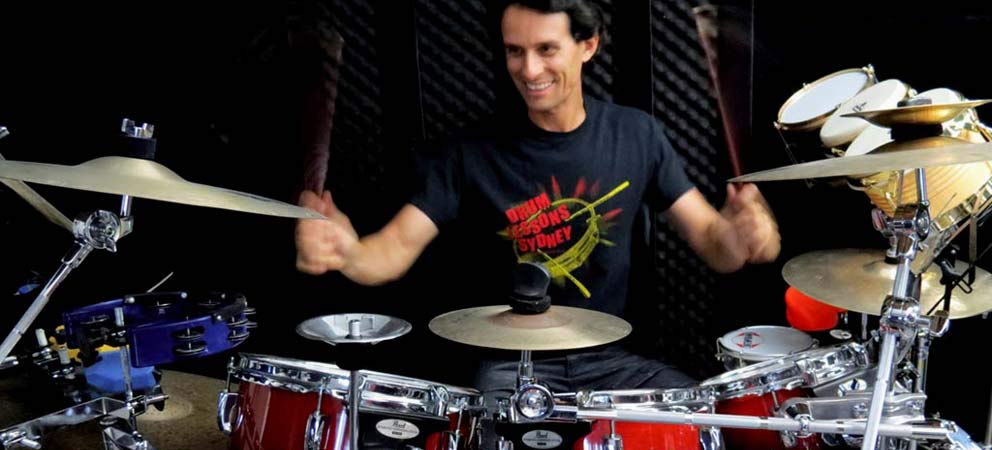 "A good teacher tells you what you want to know. A great teacher facilitates what you want and what you need to know, encouraging you to try new things, focusing on your present and future potential."
Tell Me About Your Drumming
Claudio Reis, founder and main teacher
Claudio started learning drums at 13. By 19 he was already a drum tutor for a renowned music school.
Whether performing on stage or teaching, his passion for music and drumming is the driving force behind his success as a teacher and professional musician.
2 Decades of Teaching and Performing Experience
22 Years of Teaching Experience
Claudio started giving drum lessons 22 years ago, haven't stopped since, and plan to continue for many more years. Teaching drums is not something he does "on the side."
Claudio has taught students aged 3 to 70, all styles and all levels, always balancing technical and practical work.
20+ Years of Performing Experience
• Co-founder and drummer for the corporate band Partysonic.

• Drummer for the 5-star wedding band Tentrix.

• Claudio has also performed in an array of local and international live acts, such as:

- Nevaneva, Non Stop Party Band, Twilight, Skyscraper, Mr. Bug, Duo Trio, Hypersonic, Brazilian Latin Groove, and Samba Brazil Show, covering the major music styles;

- tribute bands Dream Theater, Metallica, Skid Row, Bon Jovi, Alanis Morrisette and Elvisback;

- and cover bands with huge set lists including Muse, Maroon 5, Blink182, AC/DC, Foo Fighters, Journey, RHCP, Van Halen, INXS, Green Day, KC, EWF, Jamiroquai, Beatles, Coldplay, CCR, Queen, Santana, MJ and so on.
• At the age of 20 he was unanimously voted the best drummer in a 2-day music festival.
• Four years later, his former pop band New Jersey was elected the best band in the English Culture Festival of Brazil.
• Claudio was the drummer chosen to help compose and to record the CD T.V.lization for the band Skyscraper, mastering the complexity and challenging speed of their songs.
Methods he studied
Fundamentals, stick control, rudiments, techniques, beats and fills from private drum lessons.
Carmine Appice, Joe Morello and Gary Chaffee methods.
Duda Neves method for Brazilian rhythms.
Double Bass Drum techniques from the best international drummer in NY 2003.
Attended master classes of Mike Portnoy (Dream Theater, Winery Dogs), Will Calhoun (Living Colour), Sonny Emory (EWF), Marco Minnemann, Tony Royster Jnr, Virgil Donati, Vera Figueiredo, Charles Gavin (Titas), Ivan Busic (Dr Sin) and Duda Neves.
Photos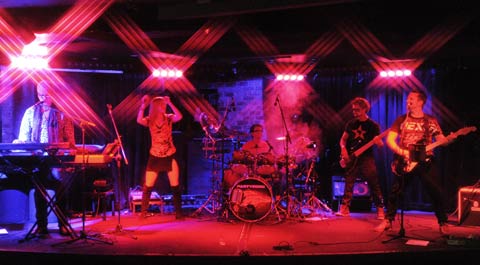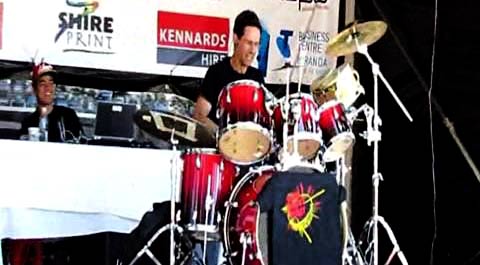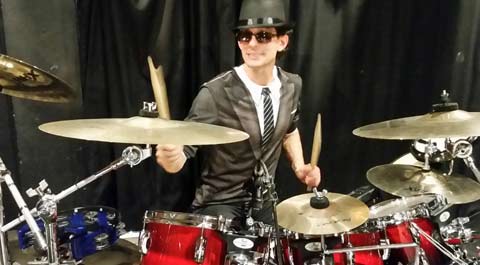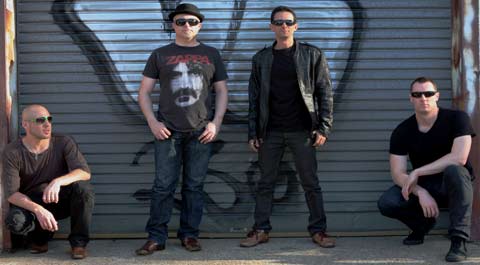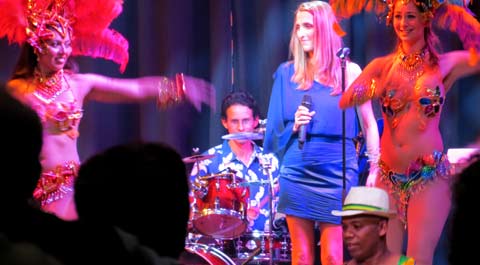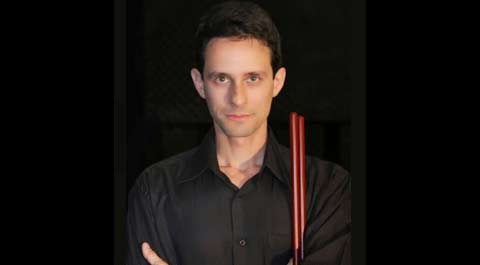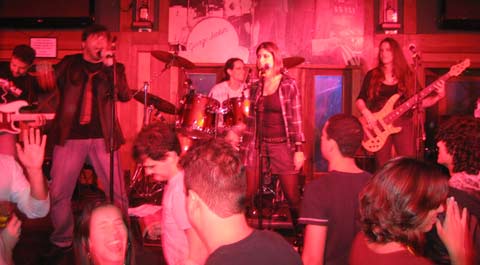 Videos
Work With Children Check: WWC1051522E.
Sutherland Shire Drum Studio
Private acoustically treated music studio in Caringbah NSW equipped with two quality drum kits, PA, air-conditioning and Wi-Fi.
Pegada Drum Method
With the desire to share my extended knowledge acquired in more than 20 years of drumming, I put together a 130 page skills development system taking into consideration the feedback of my own students, tutors and colleagues.
Pegada is a 4-part step-by-step drum method that guarantees all beginners learn how to play, and transforms the way intermediate drummers approach their traditional study methods.
Books and videos are great research sources, although a teacher can:
✓ answer your questions
✓ give you feedback
✓ follow a program according to your individual pace
✓ and, most importantly, correct your technique
Trial Lesson
Too early to commit?


30 min trial: $35
60 min trial: $55
Or come for a chat

Come meet the tutor, try the methodology, experience a professional drum studio, and find out if this is what you are looking for.
Practice Studio Rental
Booking is essential


Drum kit with cymbals provided
Sound-treated drum studio
Wi-Fi and air conditioning

Students:
30 min: $15
60 min: $20

Non-students:
60 min: $40 (drumsticks +$10)
Other services we do: drum kit set up, re-skinning, and tuning.
* Prices of lessons at the studio. Enquire about home lessons.
* $5 surcharge apply to lessons earlier than 9am; and $15 to lessons between Fri 5pm and Sun 11pm.
* Full or partial refund guaranteed if you are not satisfied, provided you tell us immediately at the end of your lesson.
Testimonials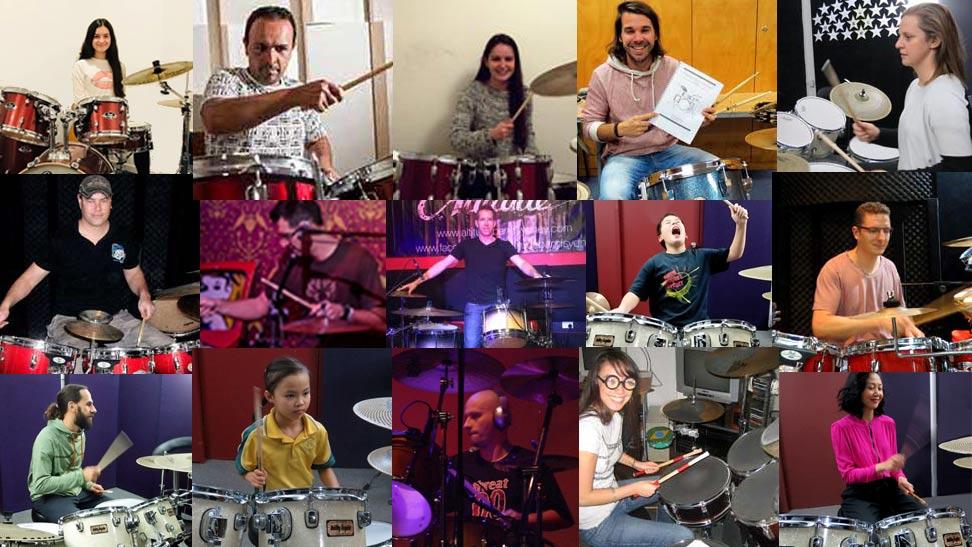 ☆☆☆☆☆


"Helped me build confidence..."

Geison Costa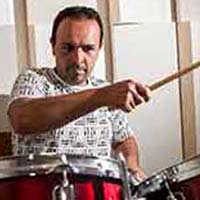 "Claudio helped me build the confidence I needed to become a professional drummer. After a few months improving my techniques from his lessons, I signed a contract to play on a cruise ship in Europe."
☆
Geison worked for Pullmantur Cruises from 2006-2012 and Royal Caribbean in 2011, traveling to more than 20 countries in Europe, Africa and Asia.
☆☆☆☆☆


"Claudio is showing rigour and patience..."

Guillaume Deront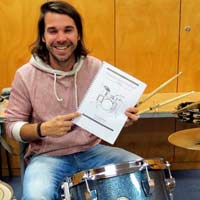 "I've been taking lessons with Claudio for over a year. He is showing rigour and patience to really help improve my coordination and to open up to new beats, patterns and influences. I'm delighted to have him on board of my current musical project. I highly recommend him as a drum teacher."
☆
Guillaume has an awesome band with awesome singer James Evans!
☆☆☆☆☆


"So stoked I found this guy..."

Gareth Hemara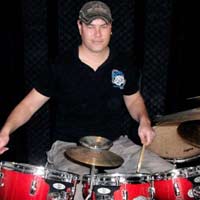 "After a few years playing drums in Sydney, Claudio showed me some different drumming styles, and I chose him to teach me how to play drums properly. He's very patient and teaches me according to my skill level. The private lessons are cool because the focus is on me. He showed me fundamental exercises that have become very important for the creation of my own fills. So stoked I found this guy! I'd recommend him to anyone looking to further develop their drumming skills."
☆☆☆☆☆


"Fun mixed to serious and methodical..."

Alex Garnier

"I had Claudio as my teacher for almost two years. He taught me more things in a year than I learned in the 4 previous years of training. My coordination and understanding about rhythms increased enormously, and all this was fun mixed to serious and methodical teaching. In less than one year learning from him I joined the school band."
☆☆☆☆☆


"Having a ball learning to play..."

Sharon Ghosn

"I had never before picked up a set of drumsticks but was always keen to have a go. My husband bought me lessons for my birthday. That was 6 months ago and I'm still having a ball learning to play. I thoroughly recommend it for any age. Great fun!"

Sharon Ghosn
☆☆☆☆☆


"I chose Claudio as my tutor after..."

Dennis Szarzynski

"I had only three mont hs in Sydney and I chose Claudio as my tutor after trying some other methods."
☆☆☆☆☆


"I will never forget the way you play..."

Tomoaki Sato

"I will never forget the way you play and the way you think."

Tomoaki Sato
☆☆☆☆☆


"It has been 4 years and counting..."

Nathan E.

"I love having a private teacher and benefit from the one on one attention I get from the

Drum Lessons Sydney

tutor. It has been 4 years and counting."

Nathan E.
☆☆☆☆☆


"Claudio is teaching me to love drums..."

Kathryn

"I wanted to play rock songs only, but Claudio encouraged me to try a Samba beat. He is not only teaching me to play a beat, he is teaching me to love drums."

Kathryn
☆☆☆☆☆


"The right fundamental exercises and..."

Antony

"I'm left handed and I wanted to play the drum kit without swapping everything around. It was challenging but Claudio had the right fundamental exercises and patience to make it possible."

Antony
☆☆☆☆☆


"I can tell how organised his method is..."

Allan

"I started learning at Drum Lessons Sydney only a few weeks ago and I can tell how organised his method is, covering with details all aspects of the exercises he teaches."

Allan
☆☆☆☆☆


"Realised he was the best teacher for me..."

Clare

"After two years learning from another tutor in Sydney, I had a lesson with Claudio and realised he was the best teacher for me."

Clare
Special Deals
Trial Lesson
Too early to commit to 5 or 10 lessons?

30 min trial: $35
60 min trial: $55

Come meet the tutor, try the methodology, experience a professional drum studio, and see for yourself if this is what you are looking for.
Refer a Friend
For every friend that purchases a minimum of four lessons you can choose:

- one FREE lesson at my studio, OR
- $25 discount on a drum set I'm selling, OR
- one new pair of maple drumsticks
10% OFF 2x Week
Book 2x week lessons for a whole month and get 10% OFF.

Students that cancel one or more lessons, for any reason, cannot have the discount applied the following month.
* Different deals may not be combined.